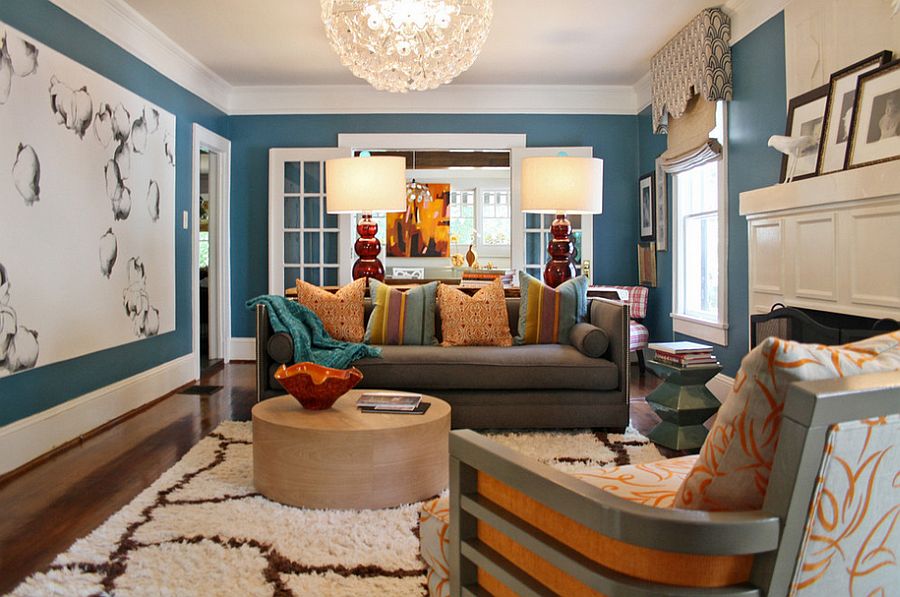 Okay, here's the scoop.  I do fine design for my interior design clients here in the Rogue Valley of Southern Oregon through Cheryl von Tress Interiors +.  Most of my clients have successful careers or businesses and have discretionary income to spend on building, remodeling or redecorating.
But wait!  What about the single person, young couple, recently widowed person that wants to create style on a tighter budget?  An all-in total that could be paid off at $50 a month for 20 months (oops, plus interest might add a month).  Dedicate a single credit card to this room and ask the issuer to apply a credit limit of $2,000.
I gave myself this challenge and wondered what I could pull together from internet shopping for under $2,000.   This blog post might reach you at just the right time to get your living room pulled together for the upcoming holiday season.
For this room challenge, I decided to build from the floor up.  Not always my direction, but I found a cute rug and thought that would be my jumping off point.  I'm envisioning a living room of about 10 x 13.  [Click images below to shop the sites.]
The Rug:  100% wool. rugsusa.com.  5×8 $669 — 70% off coupon = $209!
The Sofa:  Polyester fabric (easy care, removable, washable cover).  78″ wide.  IKEA store and online.  $699
Primary Arm Chair:  Polyester (my guess, the site didn't state).  Approx 32″ w x 40″ h (narrow profile, seat width 19″)  IKEA store and online.  $299
Accent Chairs:  overstock.com  $176.39 set of two!  I'm at $1,383.39 so far.
Coffee Table:  overstock.com  $154.79
End Table:  overstock.com  $71.99
End Tables:  home decorators.com  $164 (with shipping); set of two!  I'm at $1,774.17
Pendant Light (plug-in, not hard-wired):  lamps plus.com  (only one left so this might just be an inspiration;  search words:  Hawaiian Vine 15″ Wide Swag Style Drum Shade Chandelier)  $119.98
Curtains & Hardware:  overstock.com  $69.98 for two pairs!  Rods:  48-86″ width $33.94 for two!
How did I do?  The total is $1,998.07 (spare change for a candy bar)!  I have:  seating for seven people; easy care fabrics for pets, children and generally messy people;  lots of table space for drinks, plates and books.  There are lightweight pieces that do double duty indoors and outdoors.  Plus, theres even cute lighting.  If your TV is in this space, then you'll have that additional expense, plus a few patterned pillows, vases, photos, wall art to add your personality.  A pop of red on the yellow chair!  Multi-color patterned pillows on the red sofa.  This is a put your feet up without worries space.  Spray paint does wonders to transform existing vases, lamp bases, frames and white canvas into fabulous accessories in your new design scheme.  I prefer Krylon brand.
I would anticipate the fabrics and foam cushions of yellow chair and red sofa might last well with normal use for at least four years.  Buy this vignette or be inspired.
It's your space … mix it up, Cheryl